How much is the Ethical Hacking Course Fee in Ahmedabad?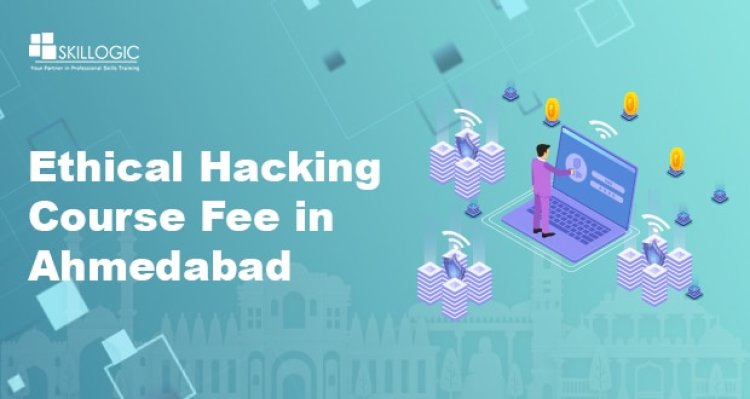 How much is the Ethical Hacking Course Fee in Ahmedabad?
Utilizing digital technologies and the internet has become standard in the world we live in today. Even if a person does not use a smartphone or the internet at home, there is a good probability that they will need to use computers, automated devices, or digital tools in order to do their job obligations. Cybersecurity and the possibility of hackers have also emerged as major concerns in this situation, where modern technology is becoming more and more commonplace.
What is ethical hacking?
Cybersecurity Ventures estimates that the yearly worldwide cost of cybercrime will be $6 trillion by 2021; this problem will require multi-layered solutions to address. One of the most crucial approaches for stopping cybercrime, identifying the objectives and tactics used by the hackers, and thwarting their attempts to wreak virtual havoc is ethical hacking.
Most of us are unfamiliar with ethical hacking. So, in essence, it is a procedure carried out by a firm, organisation, or individual to identify any potential threat on a computer or network. It is a mechanism that identifies threats and protects our data and privacy from malicious attackers.
They are hackers, after all, just a lot more so than the typical malicious hackers. Instead of the purpose of being harmful or committing a crime, ethical hackers break into computer networks to assess or evaluate their security. They are also referred to as "white hat hackers" because they only employ ethical and legal hacking methods.
Go through: Ethical Hacking Course Introduction
What does an ethical hacking career necessarily involve in Ahmedabad?
Both businesses seeking to protect their data and assets and governments seeking to protect citizens and common infrastructure from criminals are thought to benefit greatly from ethical hacking. Due to the growing demand for ethical hackers in the cybersecurity and IT sector firms throughout the world, ethical hacking has consequently become one of the most sought-after job possibilities. The Bureau of Labor Statistics (BLS) predicts that the total job prospects for information security experts, particularly includes ethical hackers, would grow by 33% through 2020 and 2030.
Skills for Ethical Hacking
Every young person entering the field of cybersecurity would have high aspirations for this line of work. Particularly in regards to the payment, they would receive in return. With global internet use increasing and cybercrime increasing, ethical hackers have become an essential workforce in any IT security company today. Investigate the abilities required to become an ethical hacker. Skills enable you to achieve your objectives within the constraints of time and resources.
Networking abilities.
Computer prowess.
Knowledge of Linux.
Programming talents.
Hardware expertise.
SQL abilities.
Understanding of reverse engineering.
Cryptography.
Go through the article: How much is the Ethical Hacking Course Fee in Kolkata?
Job Roles and Salary in Ethical Hacking
While attempting to learn the underlying principles of computing, specific programming languages, risk analysis, and networking before working your way up can be favourable and result in a rewarding career in cybersecurity in Ahmedabad, career opportunities differ considerably on your career aspirations path.
Due to a lack of qualified candidates, there is a high need for ethical hackers, which makes job chances and pay particularly alluring. Many professionals hope to break into and advance in the industry. Take some time to look into some of the other fascinating cybersecurity jobs in Ahmedabad that are available: Vulnerability assessor, Security Engineer, Security Analyst, Penetration Tester, CISO, Certified Ethical Hacker, Security Consultant, Security Consultant, Security Auditor, Information Security Analyst, Cyber Security Specialist, System Administrator, and Information Security Manager are all terms used to describe security professionals.
Now let's take a look at the salary range for ethical hackers in Ahmedabad;
As per payscale.com, an ethical hacker's salary in Ahmedabad is 5,05,652 LPA. The lowest salary an ethical hacker in Ahmedabad earns a year is 1,41,000 LPA and this amount can go up to 20,00,000 LPA as the highest value!
If you want to get certified in ethical hacking, SKILLOGIC is an amazing option. The EC-Council, CompTIA, and IIFIS have all given their authorization to our ethical hacking training courses. We in Ahmedabad offer ethical hacking training both in-person and online.
Using a Case Study Approach
3-month flexible pass
Distinct sessions for asking questions and clarifying answers
Business Analytics Foundation Complementary Course
In a blended environment, learning
Read – How much is the Ethical Hacking Course Fee in Mumbai?
What would be the duration of ethical hacking training in Ahmedabad?
Despite the scale of the industry and the number of options, you may require some time to complete the ethical hacking training. The duration and cost of ethical hacking training might vary depending on the certification and the organisation providing it. Nonetheless, it can take anywhere from a month to four months to complete.
Cost of Ethical Hacking Courses in Ahmedabad
The working environment for ethical hackers is greatly influenced by professional certifications. Ethical Hacking Courses in Ahmedabad are expected to cost between 35,000 and 60,000 INR.
Check out SKILLOGIC Ethical Hacking Training in Ahmedabad for hands-on project experience and instructor-led live training if you want to learn about ethical hacking and establish a successful career in the sector. You will gain a thorough grasp and command of cybersecurity as a result of this training. Our ethical hacking courses in Ahmedabad have been certified by EC-Council, CompTIA, and IIFIS! In Ahmedabad, we do offer both in-person and online ethical hacking training in Ahmedabad. SKILLOGIC's ethical hacking programme in Ahmedabad costs 44,900 Indian rupees, but with the discount, you may enrol in the classes for just 38,999.
One of the most recent certification programmes available to IT security professionals that work as penetration testers is the Certified Ethical Hacking Certification. You can enrol in the programmes for 38,999 Indian rupees rather than the full 44,900 Indian rupees for the Certified Ethical Hacker Training in Ahmedabad.
Refer the below articles:
How much is the Ethical Hacking Course Fee in Bangalore?
How much is the Ethical Hacking Course Fee in Pune?
How much is the Ethical Hacking Course Fee in Chennai?
How much is the Ethical Hacking Course Fee in Hyderabad?
Conclusion
The IT sector in Ahmedabad expanding rapidly. The skills you gain while pursuing a career in ethical hacking might be applied in fields other than information security. Learning how hackers hack systems can help you safeguard your data more effectively and make it much easier to land an intriguing job offer after graduation, as skilled white hat hackers are in high demand right now!
Refer the article: How much is the Ethical Hacking Course Fee in Delhi?
Watch: Biggest Cyber Attacks in the World