ITIL and DevOps: Friends or Foes?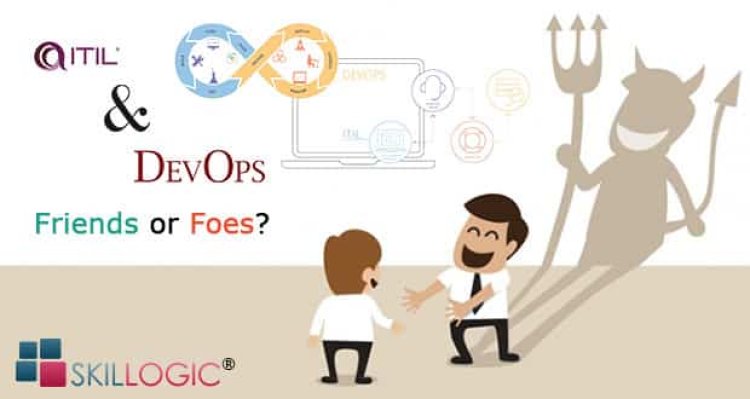 ITIL and DevOps: Friends or Foes?
More than 2 million people worldwide have been trained in ITIL and many aspirants are enrolling themselves in ITIL programs to get certified. ITIL (Information Technology Infrastructure Library), a highly structured methodology of IT organizations with strong roots dating to 80's has matured substantially in the intervening time. In spite of these years of progress, however, the latest trending concepts Agile and DevOps are surfacing with faster turnaround and agility than ITIL and ITSM.
What are the problems with ITIL from an Agile and DevOps perceptive?
ITIL has been around for 25 years that many major IT organizations have adopted ITSM for delivering value to the business but, "are they completely satisfied with the performance?" The answer is no and they are looking for practices that promise more agility and better quality such as DevOps.
Charles Betz, principal and CEO of Digital Management Academy LLC is quoting that "ITIL is not the direct villain for Agile and DevOps yet he feels that the overall narrative is still sequential, plan-centric and deterministic".
The biggest concern that was raised on ITIL is "the creation of Silos" which in turn plants 'not my problem' attitude among teams. One such silo that was frequently quoted was the change advisory board (CAB) who is a decision maker on numerous activities across the IT organization but having them review every change requests might sometime cost high with thousands of deployments. In fact, it was cited as a symbol of ITSM's anachronistic bureaucracy.
One such firm that struggled to transform its ITIL process to a DevOps model is the insurance company, ING. They found that they were able to modify ITIL to work within its new DevOps approach.
Jan-Joost Bouwman, ITSM process owner at ING is advising the best way as, not to do everything the ITIL book says but follow ITIL for practices like incident management as it will not confuse the rules.
What are the benefits of DevOps?
DevOps is a big cultural change and there is a revolution happening in software production.
1) The inefficiency of the old waterfall driven process is improved in DevOps methodology.
2) Small and frequent releases allow the system to grow in a resilient way.
3) The slow and cumbersome process can be decreased.
4) Unleashing creativity and innovation at a new pace.
DevOps Vs ITIL:
With these trending topics catching everybody's interested in the tech news, it makes us feel that DevOps is likely to win the war leaving lots of questions in our mind.
"Will the IT organizations continue only the methodical management practices like ITIL or will anything replace them????"
"Will the emergence of DevOps concepts lay a bad road to ITIL? "
"Do we really need to pick DevOps over ITIL?" or Do we need both?"
To answer these big questions upfront, No. You don't need to choose between ITIL and DevOps nor the DevOps is replacing ITIL or vice versa.
It is essential that we need to work smarter and quicker, but we also still need process and control. Isn't it?. Organisations have started realizing this fact and are using both the concepts as an intersection instead of choosing one. In fact, this intersection of ITIL and DevOps is getting more and more airplay as we see enterprises adopting them.
On a final note, though DevOps has emerged as a reaction to the failure of ITIL and finding a working solution to ITIL's unsolvable limitations, successful IT teams use the best of both. ITIL and DevOps can be close friends provided businesses understand their dynamics. In fact, many organizations are able to modify ITIL practices to work within the DevOps context, but
"Will this cross-functional practice (DevOps) and standard practice (ITIL) be steadily holding their hands together for a long time?" Only time can tell.
We, SKILLOGIC™, a renowned training provider with years of experience in training industry is training young aspirants in all industry recognized courses at a cost-effective price. Whether you're just starting out, or a pro looking to upgrade and certify your skills, ping us to get certified and earn top-tier salaries.
For ITIL certifications, https://skillogic.com/itil-training
For DevOps certifications, https://skillogic.com/devops-training
If you are looking for exclusive classroom training for DevOps, then please choose your city and click the link,
In Bangalore: https://skillogic.com/devops-training/devops-certification-bangalore/
In Hyderabad: https://skillogic.com/devops-training/devops-certification-hyderabad/
In Chennai: https://skillogic.com/devops-training/devops-certification-chennai/