How Much Do PRINCE2 Certifications Cost In India?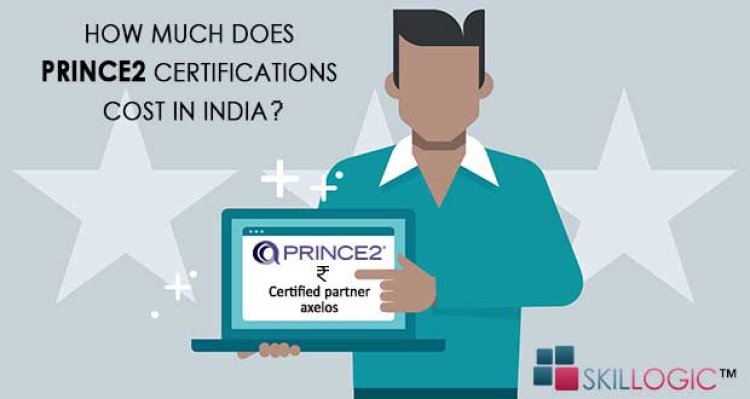 How Much Do PRINCE2 Certifications Cost In India?
A popular de facto standard for project management practice in UK and Europe as well as in other parts of the globe is PRINCE2. An acronym for PRojects IN Controlled Environments, PRINCE2 is the best practice guidance on Project management and is being widely practiced in most of the private sectors worldwide. PRINCE2 certifications prove beneficial for both the candidates as well as the organizations. PRINCE2 Certifications have two main levels and they are Foundation and Practitioner.
Watch this video to understand "What is PRINCE2 Certification"
Aspiring project management Candidates interested in taking up PRINCE2 certifications do have two choices and they are
1) Choose PRINCE2 training courses through one of AXELOS' Accredited Training Organizations (ATOs) or
2) Do a self-study for all the certification levels of PRINCE2.
Talking about AXELOS, it is not a training organization nor an examination body but is a joint venture company created in a motive to manage, develop and grow the Global Best Practice portfolio. Hence, the prices for training courses and exams are set by the training providers and will vary accordingly.
PRINCE2 Foundation Cost in INDIA:
A strong foundation of the concepts and methodologies of PRINCE2 is indeed an essential one for project management professionals. PRINCE2 Foundation certification allows the candidates to effectively gain the knowledge about the PRINCE2 concepts and methodologies. After the certification, the candidates will be able to work effectively with, or as a member of, a project management team in a PRINCE2 environment. This certification is the major prerequisite to appear for the next level PRINCE2 Practitioner certification.
A great place to start your PRINCE2 foundation training is from SKILLOGIC™. A largest authorized training organization accredited by AXELOS' for PRINCE2 and having trained more than 10,000 project management professionals in India, SKILLOGIC™ offers flexible classroom training, online training, and self-learning. With so many training organization providing training for PRINCE2, SKILLOGIC™ is the only provider who is offering high-quality training at cost-effective prices.
The classroom training is Rs 34,750, Live online training is Rs 29,750 and Self Learning is Rs 22,900 plus tax.
For details: https://skillogic.com/prince2-training/prince2-foundation-certification/
PRINCE2 Practitioner Cost in INDIA:
If you are the one who is managing projects or a part of formal Project management function or role, PRINCE2 Practitioner Certification can be of huge benefit to you. PRINCE2 Practitioner training help you to gain a better knowledge on various aspects of a project- Business Case, Cost, Time, Quality, Scope, Risk, and Benefits. After this certification, you will be able to apply the PRINCE2 concepts and effectively tailor the method to apply in different project environments and scenarios.
Candidates can enjoy High-quality PRINCE2 Practitioner training at a cost-effective price when they choose SKILLOGIC™. The classroom training is Rs 35,500, Live online training is Rs 30,500 and Self Learning is Rs 28,900 plus tax.
For details: https://skillogic.com/prince2-training/prince2-practitioner-certification/
PRINCE2 Combo (Foundation & Practitioner) Cost in INDIA
Furthermore, they do have combo offer for those aspiring management candidates wishing to complete both the Foundation and Practitioner certifications. The classroom training is Rs 65,250, Live online training is Rs 60,250 and Self Learning is Rs 39,900 plus tax.
Validate your skills and knowledge in Project Management aspects through SKILLOGIC™'s PRINCE2 certifications. Please visit https://skillogic.com/prince2-training/ to know more details about the PRINCE2 course.