Is Six Sigma Certification Worth it in 2022?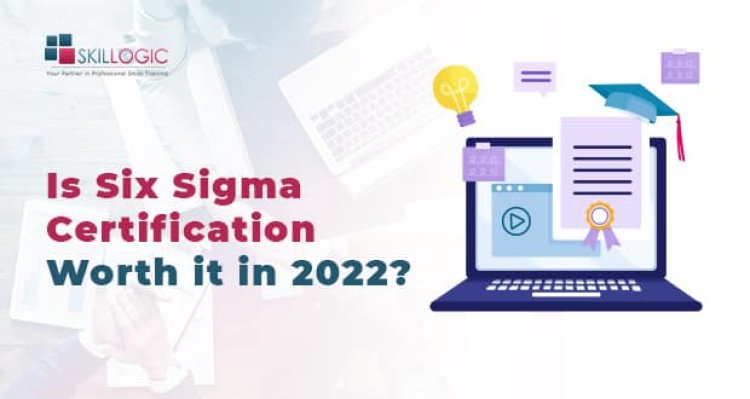 Is Six Sigma Certification Worth it in 2022?
"Quality is never an accident. It is always the result of intelligent effort.''
If we peep into any organization, it is always the quality that tops the list of a company's integrity and reputation. The top-notch quality enhances organizational avenues which certainly meet the standards of customer satisfaction and business turnovers.
The six sigma certification is one of the highly acclaimed courses for quality management in a company using various tools and techniques. It was developed by Bill Smith in 1986, an engineer who had the vision to improve the devices of the company which didn't meet the quality standards. He based his approach on quality control methods which was taught by Walter Shewhart, Edward Deming, and Ronald Fisher. All these stalwarts have proved themselves a quality maestro with good hard work and determination.
The concept behind Six Sigma
Six Sigma is a data-driven methodology that eliminates the defects in a company in various processes. The principal factor of six sigma includes the quality of manufacturing output, products, and services. Companies that have applied for six sigma have found success with this approach which includes Amazon, Ford. Mckesson, etc. However, six sigma is not the standard approach of all the companies but these can be applied wherever it is needed.
pleas check this – How important is Six Sigma?
The six sigma certification helps in assessing professionals who are skilled at identifying risks or errors in a business and removing them. For getting a six sigma certification, individuals need to have a certain level of experience that can help them become a specialist in the improvement role and eventually enhance their credibility.
There are five fundamental stages of six sigma and these are mentioned below which are mandatory while taking a quality checkup.
Define
Measure
Observe
Improve
Control
You can check this – Six Sigma DMADV and DMAIC – How Similar and Different are they?
What are the Six Sigma Belts?
The professionals who learn six sigma are the key stakeholders for improving the quality within their organization. They strive to mitigate the risks associated with business operations and establish metrics to reduce the potential defects
There are different levels of six sigma certifications which are categorized as 'six sigma belts' which play an important role in providing certifications to individuals corresponding to different levels of skill-set and responsibility.
There are 6 levels of Six Sigma Belts and these are as follows:
1.White Belt: Six Sigma White Belt certification gives a general idea and information about basic concepts of six sigma. They not only assist in bringing a change in the management but they can also engage in problem-solving by supporting the projects. When professionals have not undergone formal training, they are called six sigma white belts.
2.Yellow Belt: A yellow belt points towards an exposure that goes beyond the fundamentals provided for a white belt. Professionals who have undergone yellow belt have attended a couple of orientation sessions developing knowledge that is enough to contribute to an assigned project.
3.Green Belt: To earn Six Sigma Green Belt Certification, professionals require to attend a full course that introduces them to six sigma concepts for enhancing products and services. Majorly, they learn to apply a problem-solving framework which is called DMAIC- Define, Measure, Analyze, Improve and Control. Green Belt training is useful for people in roles like project management, financial management, healthcare administration which gives them the understanding to control performance charts.
4.Black Belt: After the completion of green belt courses, leaders have the option to take their skills to next level by taking up black belt certification. Its advanced training requires knowledge of Lean Six Sigma (LSS) which is required to plan and execute complex organizational changes.
During the Six Sigma Black Belt Training, professionals demonstrate hands-on experience by involving in a project for their employer. By employing six sigma tools in a real-world context, students develop relevant business strategies to foster customer satisfaction.
5.Master Black Belt: A seasoned black belt holder with strong leadership skills can move on to master black belt in LSS.
6.Champion: A champion is someone who is an upper-level manager and carries out LSS strategies based on the objectives set by an organization.
You can read What are the roles in Six Sigma?
Who can pursue Six Sigma Certification?
There are no prerequisites to join the white belt, yellow belt, and green belt certification but to get into the black belt level, the candidate must have completed the green belt six sigma program.
A fresher or a working professional aspiring to enhance the quality of different enterprises can take up six sigma certification and ace in this domain.
How much Salary does a Six Sigma Professional earn?
The average salary of Six Sigma professionals is up to $88,000 to $114,600. A beginner, who has completed at least one level of training, earns up to $18,000 to $20,000.
In India, a six sigma black belt at a beginner level earns up to INR.4,16,790/- and experienced professionals can demand up to INR.15,01,590/-.
Benefits of taking up Six Sigma Certification
Increased value to the organization: This six sigma certification indicates you can take control of the quality in an organization by eliminating risks that enhance employer value.
Enhanced job prospects: It helps a person stand out from the employers because of aggressive training in cost reduction, leadership, and revenue improvement. Six Sigma skills can be useful in many industries to qualify for different job roles.
Switch to managerial roles: It improves risk assessment, team building which is essential for people who are sitting in higher positions.
Greater salary expectation: Getting into this industry will provide you with great salary packages which is the top reason for people switching their domain into quality.
How to learn the Six Sigma Certification Program in 2022?
A person can only learn six sigma certification if he possesses certain skills. The right attitude is a key to success in any field.
Skills that are required to become a six sigma specialist are as follows:-
Positive approach
Outstanding communication skills
Excellent leadership quality
Keen understanding of the business process
Top 9 Six Sigma Job Roles of 2022 are:
Senior Consultant
Operational Excellence Manager
Lean Manufacturing Engineer
Six Sigma Manager
Senior Consultant
Continuous Improvement Manager
Project Manager
Six Sigma and Lean Process Specialist
Process Analyst.
Best Six Sigma Certification Providers in the Market
Six Sigma course providers are many but when it comes to high-quality level training, we can only find a few in the market.
Let's take a look at some of the top 5 boards that provide Six Sigma Training Worldwide.
TUV-SUD – TUV SUD is a licenced global training and certification provider in a variety of industries, including the Lean Six Sigma Green Belt Program.
ASQ – ASQ is a global community of quality-conscious individuals who use tools, ideas, and knowledge to improve the way the world works. It offers Six Sigma certification.
IASSC – Professional Lean Six Sigma Credentialing is offered by the IASSC, through the Lean Six Sigma Black Belt, Green Belt, and Yellow Belt Certifications.
CQI – The chartered body for quality professionals that increases the performance of organisations by enhancing their quality management capabilities.
ICFQ – Through globally recognised lean six sigma green belt, black belt, and yellow belt certifications, ICFQ provides unbiased, independent, and third-party validation of lean six sigma knowledge.
Six Sigma Certification Cost and Duration
Six Sigma certification costs in the US ranges from $300 to $350 for virtual training whereas classroom training costs approximately $390.
In the UK, six sigma training only costs 309/- Euro whereas in India it costs from INR 20,000/- to INR.25,000/-.
What is the Cost of Six Sigma Certification in India?
There are innumerable institutes for Six Sigma certification but if you are someone who wants to gain global exposure, join the SKILLOGIC Six Sigma Certification Courses which provides 2- hours of training for 12 days. After the successful completion of the certification, internationally acclaimed ICFQ and TUV certificates are provided which will enable all the aspirants to gain comprehensive knowledge along with contemporary market skills.
Conclusion
No business organization can take away the quality from its job prospects. Therefore, these kinds of job-oriented programs will not disappear in the future and will remain relevant all time. It's better to jump into the Six Sigma Program if you are dreaming of a career that is rewarding and fulfilling at the same time.