How Can I Become a Business Analytics Expert in 2022?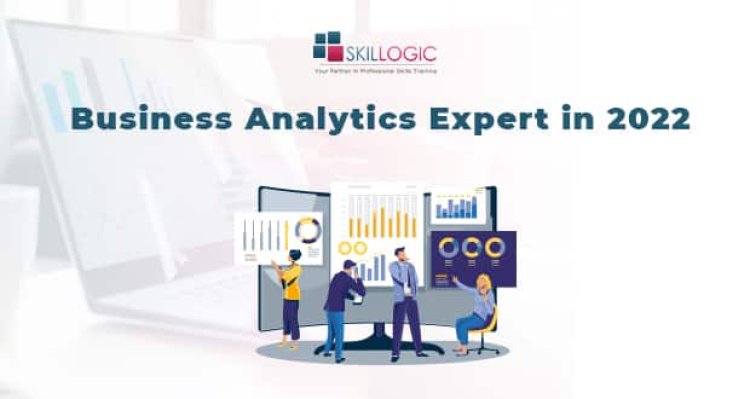 How Can I Become a Business Analytics Expert in 2022?
Data collection and analysis are fundamental to any business. During the 1990s, computer programming skills were required to recognize the available data in an organization and convert raw data into actionable form to create generic reports. Afterwards, reputable organizations used programming languages such as Python and R to analyze data and check what was happening within the business.
A study conducted by the U.S. Bureau of Labor Statistics (BLS) projects the demand for business analytics in recent years. As per the report, the job growth of business analytics has increased by 25% in 2020 and it will remain stagnant till 2030.
Now, for the past decade with the advancement of AI, cloud data management software has made it viable for anyone to analyze or visualize big data trends and make informed decisions. As it can be seen, business analytics is no longer limited to computer science professionals but it has become a common tool for manufacturing, finance, marketing, sales, operations, supply chain, etc.
What is Business Analytics?
Business Analytics facilitates data management solutions using different methodologies such as predictive analytics, data mining, and statistical analysis. It also transforms business data into useful information and anticipates different trends and outcomes.
It started getting hype with the explosion of organizational data and the evolution of distinct data mining methods which became an initial contributor to the rapid development of hardware and software technology. This paved way for speeding up commercial activities at a faster pace. In a certain way, the growth of business analytics has been very natural which made underlying technology improve business services but the decision-making associated with the market became complicated.
Watch the Video to know What is Business Analytics –
Types of Business Analytics Tools
In business ventures, there are different types of software that are being used to retrieve data from various business sources. It is called a data warehouse that is then reviewed to understand the customers in a better way. Any organization is free to use more than one analytics tool to get a 360-degree view of the business. People can use this information to provide valuable insights for making decisions.
Some of the top famous Business Analytics Tools are given below:-
QlikView – It is a business analytics software that is the most recommended tool for business ventures due to its exceptional features. The QlikView is very easy to deploy and enables users to gain insights related to data associates. This software tool is mainly meant for startups and individual learners.
SAS – It is a statistical tool which is designed by the SAS data management institute in North Carolina which simplifies the process of observing data in real-time. It's a high-end platform for users to convert raw data into logical information to draw relevant conclusions.
Excel – It is one of the most economical data analytics tools all across the globe. Excel is the only tool that does the complex task of summarizing data which also helps in data filtering based on clients needs.
RapiMiner – It is popular for performing predictive and prescriptive analyses such as data mining and visual analytics. No prior knowledge of programming is required to use this tool. One of the advantages of this particular tool is that it can be incorporated with any data source.
Myths Surrounding Business Analytics
While business analytics aids companies to make informed decisions, myths or misconceptions surrounding them can hamper its impact on organizational culture. Let's bust some common myths now!
One needs to be an engineer to have a business analytics career.
Analytics is all about working on large data sets.
You need to have prior programming knowledge.
Learning analytics is all about learning only analytics tools.
Advantages of doing Business Analytics Program
Before the business analytics model came into existence, businesses had to rely on the error-free analytical model which made it difficult for them to make smarter decisions. However, business analytics has enabled them to make rational decisions with better predictability outcomes.
This confirms the fact that there are more advantages to a business analytics job which is why its demand is soaring at a greater height.
The top 3 advantages of a Business Analytics Program are as follows:-
Helps to measure progress – All business has a mission that shows their value to customers. These missions help either in checking the development or marketing strategy. Mission statements are good for companies to retain employees by providing them with clear guidelines.
Business values should be conveyed to employees in such a way that they create more profits for the organization.
Supports data-driven decisions – When a business has access to crucial data, it permits everyone to make better decisions to foster good results. It makes it easier for employees and stakeholders to share insights and discuss pathways to promote collaboration between everyone who is involved in the business.
Delivers clear-cut insights – The primary benefit of doing business analytics is it gives clear insights using visualization techniques like Graphs, Pie Charts, etc.
By using comprehensive visuals and diagrams, extracting data becomes very easy which helps in identifying trends and generating conclusions with better clarity.
Who is a Business Analytics Expert?
Business analytics experts are specialized business professionals who focus more on statistical analysis. They use their raw findings to investigate businesses present performance and they are also proficient at providing insights if a company is doing or not doing well.
This particular role works with both internal and external clients and emphasizes enhancing marketing strategy and customer experience.
Roles and Responsibility of a Business Analytics Expert
Develop a detailed business plan, outline errors, and create business solutions.
Forecasting and Budgeting.
Monitoring and Planning.
Reporting and Pricing.
Explaining business requirements and informing them back to stakeholders.
How much is the salary for a Business Analytics Expert?
In the U.S. salary of a business analytics expert is approximately $74,204/-(per year) and some of the high-paying cities are Houston – $93,579/-, New York – $88,854/- Chicago – $86,309/- etc per year.
The average salary of business analytics professionals in the UK is between £21,000 and £31,000. A fresher earns between £32,000 and £38,000 whereas for an experienced professional, salary ranges from £39,000 to £50,000, as per Indeed.com.
According to Ambition Box, salary ranges from INR 6,00,000/- to 7,00,000/- per annum for a beginner who is planning to dive into an analytics career. A person with 5 to 6 years of experience in the industry earns about INR 8,30,975/- and someone with 15 years of experience can easily earn up to INR 16,54,946/-.
Be a Business Analytics Expert in 2022?
Qualification – If you have prior knowledge of Python, MS Excel and a basic understanding of business analytics adds value and helps in effectively grasping the knowledge.
Skills for a Business Analytics Expert
Understanding of business objectives – Basic understanding of business objectives is required to comprehend business goals and problems.
Analytical and critical thinking skills – A business Analyst must be able to analyze clients' requirements which helps in thinking distinctly.
Inquisitiveness – People who are in this field should have an inborn curiosity in figuring out things and an urge to learn. It's important to stay in touch with the latest industry vogue.
Grasp of statistical languages – Knowledge in any programming language like R or Python will be beneficial to analyze big data sets.
Duration
The overall duration of the program is 4-days of online training which is conducted by elite industry experts and gives candidates a comprehensive understanding of business analytics.
Certification Body
International Association for Business Analytics Certification (IABAC) which is recognized by the European governing body is one of the prominent certificate providers for the Business Analytics Program. An international certificate adds greater value to those individuals who are planning to move abroad as this certificate is valid in all countries.
Fees for Business Analytics Courses
In the US, a one-year program of business analytics certificate costs around $27,000/- to $ 82,000/- whereas in the UK it ranges from £18,000/- to £29,000. Apart from US and Canada, the best countries for the analytics program include France, Germany and Canada.
India has become a major centre of excellence for business analytics training. There are many viable options available like live-instructor-based sessions, self-learning, and classroom-based learning approaches. The Business Analytics Online Course Fee is INR 32,000/- and self-learning costs around INR 22,000/-. The self-learning option provides candidates with a choice to learn at their convenience using pre-recorded sessions with 24×7 training support. Finally, classroom session gives an experience of physical learning which has INR.30,000 to INR.35,000/- certification cost.
Conclusion
Business is an important aspect to generate revenue in a nation's economy. When more firms are being set up, we will be able to create more job opportunities which will have a positive impact on the employment rate. Therefore, business analytics experts become an
an integral part of an organization for a company's growth using technical tools and software.
Don't wait now! Just get yourself a Business Analytics Expert Training at SKILLOGIC for an enhanced and engaging learning experience.
Refer the Video – Business Analytics for Managers : Part-1
Check out this video to know Business Analytics for Managers : Part-2
Watch the video – Business Analytics for Managers : Part-3