7 Incredible DevOps Tools That are Loved the Most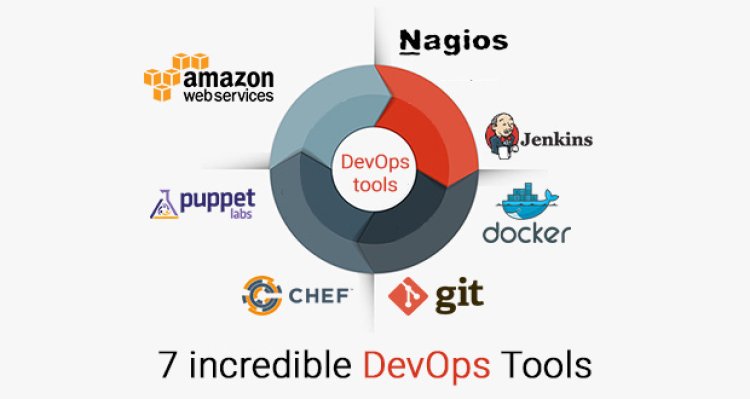 7 Incredible DevOps Tools That are Loved the Most
DevOps is a bridge that connects the development and operations with the help of stand out technologies. First coined by Patrick Debois, DevOps is not just for IT but optimises the whole system of an organisation which in turn improves its business. DevOps is considered as the greatest revolution in the world of software development and delivery, as this movement makes people work in a harmonious way rather than working in silos.
Isn't it important that we need to select right tools and technologies to support DevOps automation and collaboration between the teams? Although there are many tools that support the DevOps environment, we have narrowed down to 7 most incredible ones.
Shall we shine some light on 7 incredible DevOps tools now?
7 incredible DevOps tools:
1) Nagios (&Icinga): Being a veteran monitoring solution, Nagios tool proves to be highly effective for its availability of large plugins. Infrastructure monitoring field is loaded with many solutions but we pick Nagios since it works great. As we progress, switching to new technology such as Icinga seems to be appropriate. Icinga was originally created as a fork of Nagios and is expected to grade up with new features and modern user experience in near future.
2) Jenkins: An open source automation server Jenkins is a well-known tool, and is popular for its easy to start, easy to use and availability of a variety of plugin and add-ons options. Easy customisation is one of the great features to pin down about Jenkins. Jenkins has grown significantly for its big community offering more than 1300 plugins that allow an easy integration of it with any popular technology.
3) Docker (Docker Hub): A perfectly designed tool that allows easy creation, deployment and running of applications by using containers instead of virtual machines is Docker. In fact, it is flexible enough and allows the containers to move from one place to another that completely eases out the control issues, scaling and configuration management. This technology is one of the fastest growing one in IT world. Coming to Docker Hub, it is a cloud based registry service that acts as a centralised resource through out the development process.
4) Git (Git Hub): Git is a 10 years old open source project that was created to support the needs of the Linux community's SCM software. Gits is a commonly used source management tool that runs internally. But, Git Hub is a web page on which you can publish your Git repositories and integrate with other tools. Thus, Git Hub acts as an effective backup of Gits.
5) Chef: A powerful open source configuration tool whose main focus is on developer's side. Chef design is transparent and it works according to your instructions, so it is necessary that you need to give clear instructions. It operates as a master-client model with a rich collection of modules and configuration recipes.
6) Puppet: An older technology with well established roots in configuration management is Puppet. Based on Ruby, Puppet has a customised Domain scripting Language for working in it. A master client model with a model driven approach makes it more flexible to use.
7) AWS CodeDeploy: A deployment service that allows the developers to automate the code deployments to any instances as well as to update the applications as required. Releasing new features can happen pretty fast in AWS CodeDeploy. In fact, you can avoid downtime during application deployment as well as effectively handle the complexity of updating your applications.
DevOps world is filled with many unique open source tools on which you can have your hands on. With lots of tools available, the7 tools listed above are "break out" from the crowd. Being a fastest growing world, DevOps is in need for skilled people with the ability to work on these incredible tools at ease. A professional with DevOps certification from a reputed service institute such as SKILLOGIC™ and can achieve this also would turn into a vital asset for their organisation. Call us to know the details about DevOps course that we offer.
DevOps in Bangalore: https://skillogic.com/devops-training/devops-certification-bangalore/
In Chennai: https://skillogic.com/devops-training/devops-certification-chennai/
In Hyderabad: https://skillogic.com/devops-training/devops-certification-hyderabad/